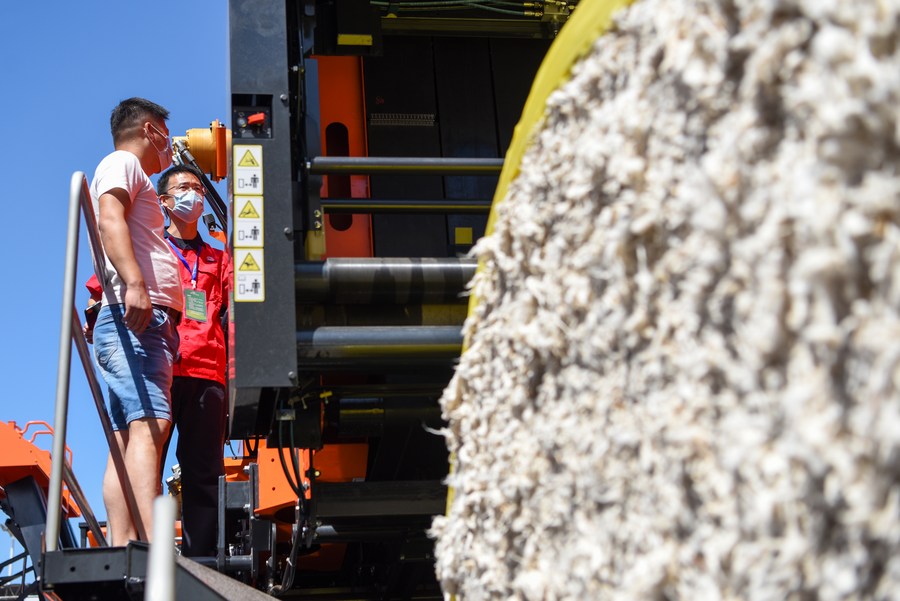 Visitors are seen on a cotton picker during a regional agricultural machinery expo in Urumqi, capital of northwest China's Xinjiang Uygur Autonomous Region, July 3, 2022. (Xinhua/Ding Lei)
Xinjiang Uygur Autonomous Region in northwest China has entered its large-scale cotton harvest period this year, with machines expected to do over 80 percent of the picking work, local authorities said.
Currently, over 7,000 machine cotton pickers have been put into use during the harvest season in Xinjiang, according to the regional department of agriculture and rural affairs.
Xinjiang's overall cotton growth this year is better than that of last year, and its technological cotton planting level has been significantly improved, said the department.
The cotton and textile industry is one of the pillar industries in the region. Cotton output in Xinjiang topped 5.13 million tonnes in 2021, accounting for 89.5 percent of the country's total.