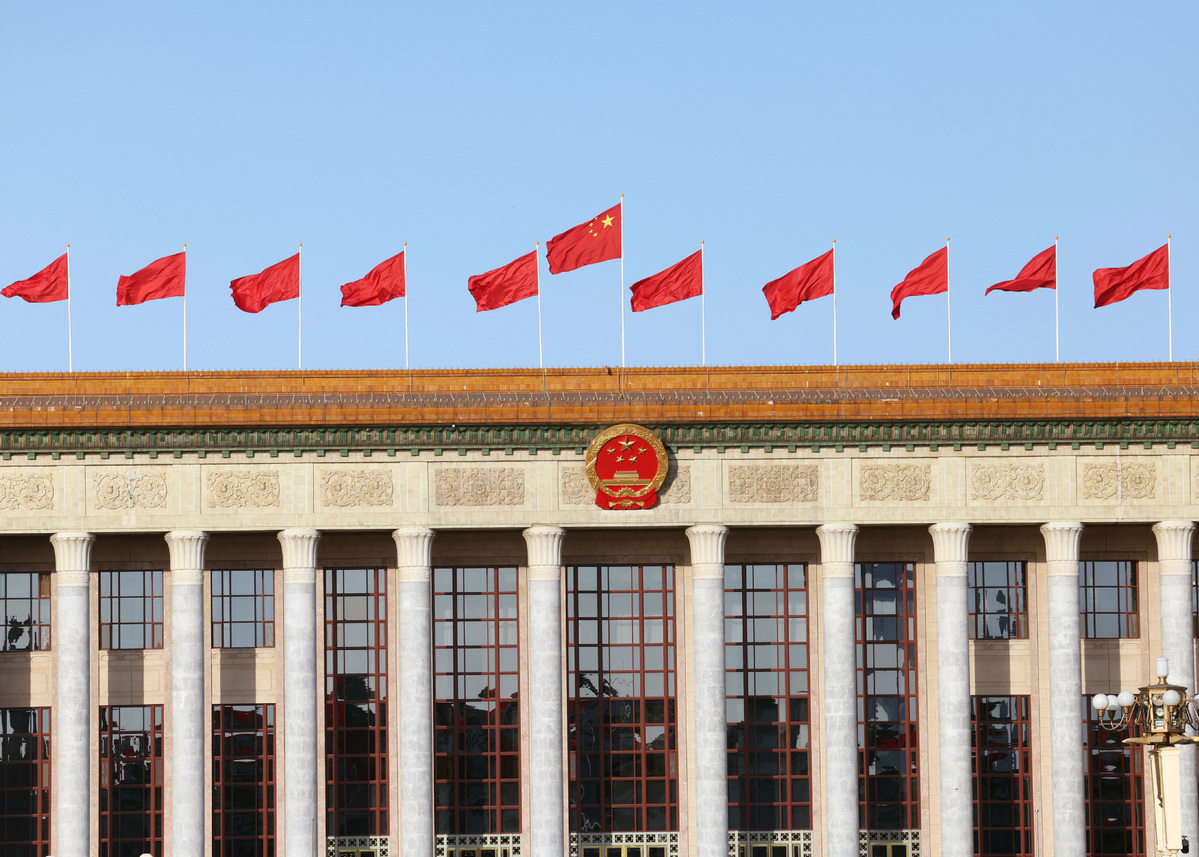 This photo taken on Oct 16, 2022 shows the Great Hall of the People in Beijing. [Photo/Xinhua]
People around the globe want security and prosperity, and the international community needs to make shared efforts to bring the world back to a more peaceful and safer condition, international experts said.
In the report that Xi Jinping delivered at the opening session of the 20th National Congress of the Communist Party of China on Sunday, he stressed the need to coordinate development and security, and highlighted safeguarding national security and social stability in the course of promoting sustained growth.
Stephen Perry, chairman of Britain's 48 Group Club, a nonprofit organization engaged in promoting China-United Kingdom economic and trade relations, said there are two separate questions that Xi correctly separates. One is economic. The other is geopolitical.
It is in all nations' interest to manage their imports and exports and inward and outward investments in conformity with their changing circumstances and needs.
Leaders across the globe are becoming concerned about the effects of dynamic challenges on their own countries' stability. Energy costs are a major issue in Europe, and increasing growth is a great concern in the UK.
"In the period ahead, we must hope that this new level of global tension will lead to a calming," Perry said.
He added that the Ukraine crisis is bad for the world, but is making people think about how to return to a calmer and safer global situation.
"People all over the world want peace and stability, and growth in their living standards," he said.
"The UK and China are both global nations, as they are permanent members of the Security Council of the United Nations. We need to cooperate for global development and peace and stability."
Shakeel Ahmad Ramay, CEO of the Asian Institute of Eco-civilization Research and Development in Pakistan, said that Xi delivered the report at a time when the world is facing multifaceted and complicated challenges, including the COVID-19 pandemic, climate change, poverty, and energy and food insecurity.
In this context, Xi's report is "extremely important" because China's policies influence the global system, he said.
"There is consensus among the community of experts and policymakers that the economic performance of China has determinant impacts on the global economy and politics," he said, adding that the report has also taken relevant global situations into account.
Chen Yingqun in Beijing contributed to this story.