Photo taken on March 12, 2020 shows the 6th Press Conference on Xinjiang-Concerned Issues in Urumqi,Xinjiang.
On March 12, 2020, the Information Office of the People's Government of Xinjiang Uygur Autonomous Region held the 6th press conference on Xinjiang related issues. The press conference invited Spokesperson of the Information Office of the People's Government of XUAR Elijan Anayit, Director of the Health Commission of XUAR Mutalif Rozi, to give a briefing and answer questions from the press.
Host of press conference: Deputy Head of the Publicity Department of the CPC Xinjiang Committee Xu Guixiang
Xu Guixiang: Dear friends from the press, good morning. Welcome to the 6th press conference on Xinjiang related issues.
The invitees of today's press conference are Spokesperson of the Information Office of the People's Government of XUAR Elijan Anayit, Director of the Health Commission of XUAR Mutalif Rozi.They will answer questions from you.
Our friends from the press, please raise your hands to ask questions. Before asking questions, please introduce the name of the news press you are in.
Reporter from Tianshannet
Q: Since the outbreak of COVID-19, what measures has Xinjiang taken for the prevention and control? What is the current situation of the epidemic? What do the people of different ethnic groups say about the measures?
Xu Guixiang: This question goes to Elijan Anayit.
Elijan Anayit,Spokesperson of the Information Office of the People's Government of XUAR:
A: Since the outbreak of COVID-19, Chinese President Xi Jinping has personally directed and deployed the relevant work, chaired meetings and delivered important speeches, which provided us with basic guideline for winning the battle of epidemic prevention and control. In strict accordance with the important guidelines of President Xi's remarks and the decisions and deployments of CPC Central Committee with President Xi Jinping at its core, we have prioritized the epidemic prevention and control for the current phase and followed the general requirement of having full confidence and relying on concerted effort, scientific containment and targeted measures. We have taken resolute actions in epidemic prevention and control across the region and from both Xinjiang Production and Construction Corps and localities.
First, emphasis on prevention from the source. By upholding the principle of preventing both spreading of the coronavirus within the region and introduced cases from outside, we have adopted legal thinking and methods in epidemic prevention and control, improved and intensified preventive measures, so as to ensure early detection, reporting, quarantine and treatment of cases. Community and village-based grid management have been promoted to a more precise, scientific level to better serve the people. We have made early plans through scientific study on the trend of returning population flow after the Spring Festival, and taken precise approaches on epidemic monitoring and prevention for people entering Xinjiang. Refined measures have been taken in the check and disinfection at main venues, while body temperature monitoring and case screening being intensified, hence substantially improving the effectiveness of epidemic prevention and control.
Second, scientific treatment enhanced for patients. We have admitted patients in severe conditions to the facilities where the best resources and professionals are pooled to enable effective treatment. The medics have tried all out to treat confirmed patients, and brought the severe cases to designated hospitals with stronger comprehensive capacity. Precise approaches have been taken to examine and confirm those suspected of being infected with the coronavirus and to scientifically identify those with a fever. Observation and quarantine measures have been strictly implemented. Prevention against nosocomial infection has also been enhanced to protect the health of the medics.
Third, containment measures strengthened to cut off epidemic spreading. We have emphasized prevention to guard against introduced cases from outside with the jurisdiction and focused on key issues, made overall plans and provided sector-specific guidance and partitional approaches. Each county is considered as a unit to take precise prevention and control measures based on epidemic risks in different areas and at different levels. We have seized the initiative by solidifying the foundation for community based medical screening and resolutely preventing the outbreak from rebounding.
Fourth, endeavors made to secure supplies. We have tried every means to ensure the supplies of protective gears, medicines, disinfectants and appliance, test kits and reagents, and other needed materials, and given priority to meeting the needs of frontline medics' protection and patients' treatment. We have guaranteed with all efforts the supplies of vegetables, food and other daily necessities as well as of water, electricity, oil and gas through unimpeded transport channels to ensure the people's life in an orderly manner.
Fifth, continued efforts on maintaining social stability. We have attached equal importance to epidemic prevention and control and social stability. Various measures have been taken to safeguard social stability and keep a good order of medical treatment, health quarantine, transportation, economic and social progress. We have resolutely cracked down on crimes in accordance with the law to ensure overall social stability and create a good environment for winning the battle against the coronavirus.
Since the outbreak of COVID-19, health workers and staffs in different departments across Xinjiang have been conscientious in fulfilling their duties, and the people of all ethnic groups have been closely united in fighting against the disease. Thanks to arduous efforts from all sides, Xinjiang has maintained a good work in the epidemic prevention and control. The economic, social, production and living order has fully restored. By March 11, the confirmed cases in Xinjiang registered 76, (Xinjiang Uygur Autonomous Region: 52; Xinjiang Production and Construction Corps: 24), in which 73 patients had been discharged after recovery, and three had died of the disease. No new confirmed cases have been reported for 23 days in a row. The prevention and control measures and the results achieved in Xinjiang have won full recognition and support from all ethnic groups across the region.
No winter lasts forever, and every spring is sure to follow. As long as we unite as one and make concerted efforts in unremittingly implementing epidemic prevention and control measures, we can have full confidence and capacity to win the battle against the epidemic by mobilizing all people and resources.
Reporter from Xinhua News Agency
Q: According to your introduction, no new confirmed case has been reported for 23 days in a row. How does Xinjiang prevent entering cases from outside the region as a big amount of people come to Xinjiang every day?
Xu Guixiang: This question goes to Mutalif Rozi.
Mutalif Rozi,Director of the Health Commission of XUAR:
On Feb. 26, Xinjiang adjusted first-level public health emergency response to secondhe situation of epidemic control. For the next step, we will -level, and again to third-level on Mar.7, according to tkeep clear-minded, be prepared for unexpected development, and comprehensively carry out the central government's general requirement of having full confidence and relying on concerted effort, scientific containment and targeted measures in line with Xinjiang's epidemic situation and work realities. We will take targeted measures dominated by prevention to guard against new coronavirus from outside, improve our steps and relevant mechanism in a more precise and refined way, and carry out scientific management with better service, so as to substantially enhance service management and health protection for people coming to Xinjiang, so as to make them feel both safe and comfortable.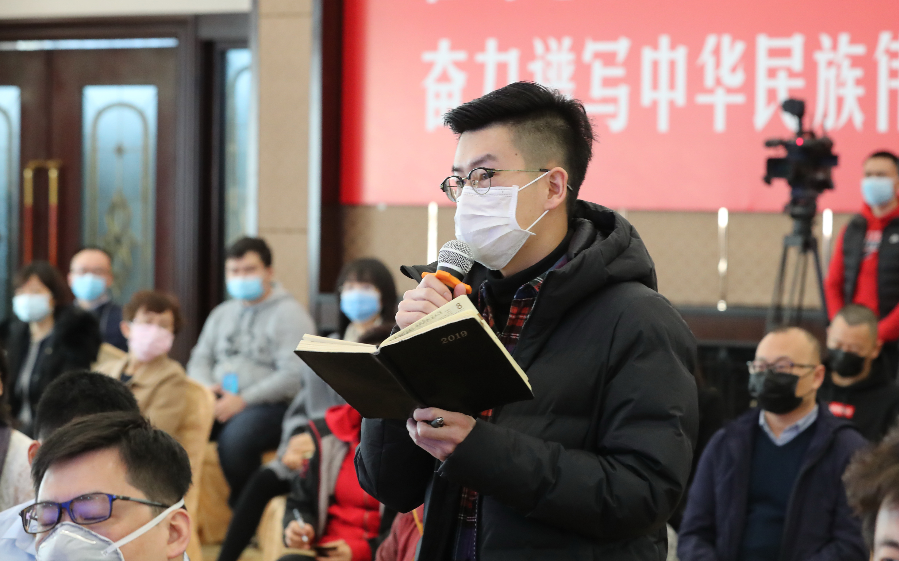 Photo taken on March 12, 2020 shows the 6th Press Conference on Xinjiang-Concerned Issues in Urumqi,Xinjiang.
Reporter from China News Service
Q: According to your introduction, there were 76 confirmed cases in Xinjiang. What measures has Xinjiang taken for their treatment? And how are their conditions now?
Xu Guixiang: This question goes to Mutalif Rozi.
Mutalif Rozi,Director of the Health Commission of XUAR:
Since the outbreak, we have immediately established a treatment system with the Hospital for Infectious Disease of Xinjiang as the base, fever clinics in all medical institutions as sentinel points, designated hospitals as the main force and tertiary hospitals across the region as the support. 11 hospitals were designated in which more than 2,850 front-line health workers have taken part in fighting against the disease. We have set up a team consisting of more than 60 expert medics in serious disease, respiration, infection, TCM, and nursing. The expert team and 9 multi-department professional teams were assigned to the designated hospitals for treatment, guidance and training. We have also built a reserve talent team consisting of 1,100 medical professionals who shift with frontline health workers to ensure the treatment proceed steadily. A telemedicine platform for treating COVID-19 was established to link 1,161 medical institutions. Experts were available during 24 hours every day for consultation to optimize plans of treating confirmed and critically ill patients all over Xinjiang. Each of the 76 confirmed patients was treated in a targeted and scientific plan.
First, treatment process has been regulated. We have worked out a clinical diagnosis and treatment procedure for COVID-19 which enable grassroots medical institutions to identify suspected cases quickly and precisely. 15 operational processes have been made and improved to be standardized and homogenous.Patients' treatment effect has been guaranteed due to plans for discharge and follow-up management.
Second, key issues in treatment have been highlighted. We have sent senior expert teams to designated hospitals for critical cases. Emergency equipments like ECMO were allocated to each designated hospital. Consultations were made more than twice a day through the telemedicine platform to adjust and optimize treatment plan. In this way, patients were treated in all out efforts .
Third, the combined use of western medicine and traditional Chinese medicine has been strengthened. We have worked out prevention and treatment plans using traditional Chinese medicine. Patients were treated with both western medicine and traditional Chinese medicine. Over 90% patients admitted in Hospital for Infectious Disease of Xinjiang were treated by combined therapy. Patients took boiled Chinese medicine according to personalized prescription, and the treatment was proved to be quite good.
Fourth, we have carried out psychological intervention and provided nutrition guidance to people. By building a psychological counseling team and a 24-hours psychological assistance hotline, we have offered psychological intervention and mental health consultation to people in need including those confirmed patients. In addition, nutrition support have been added to maximize cure rate and minimize fatality rate. By March 11, 73 patients of the region had been discharged after recovery, and three had died of the disease. No new confirmed cases have been reported for 23 days in a row.
Reporter from China Daily
Q: What measures has Xinjiang taken to ensure provision of suppliers for epidemic fighting and manufacturing and daily items, as well as to guarantee a normal life for its people?
Xu Guixiang: This question goes to Elijan Anayit.
Elijan Anayit,Spokesperson of the Information Office of the People's Government of XUAR:
A: Since COVID-19 broke out, Xinjiang has put provision of medical supplies and daily necessities on high agenda. To ensure the needs for medical treatment, for performing tasks on front lines and for dealing with emergencies are well met, Xinjiang teamed up at the first time two groups responsible for provision of medical supplier and daily necessities respectively which coordinate relevant departments from procurement, manufacturing, distribution, releasing and stockpiling, to secure the provision of medical supplies and of daily essentials and to ensure goods essential to people's life adequately available and at stable prices.
Medical supplies guarantee:First is to go all out to procure medical equipment and materials, particularly the prioritized 33 items in five categories of test kits, medications, protective gears, disinfectants and sanitizers, and medical equipment, to meet the demand for virus prevention and control. Second is to beef up quality supervision, which concerns people's health. Medical protective gears and medications from manufacturing to circulation are fully supervised and regulated up to set standards; professionals are stationed to entities manufacturing and stockpiling medical protective goods to allocate such materials to market after quality is checked; special working groups are formed to conduct supervision and inspection to ensure a stable and adequate provision of quality medical suppliers. Third is to optimize supply chain management with higher efficiency. Key protective materials and medications are under region-wide unified management, area-based planning and proximity-based distribution. As of March 8, Xinjiang had procured a total of 128,000 COVID-19 test kits, stockpiled 12.848 million tablets (capsules) of clinical medications in 10 categories, procured and manufactured 36.6089 million masks including 423,000 N95 masks, 1,0566 million isolation gowns including disposable surgical gowns, procured 625,600 medical protective suits and 229,000 safety goggles, and manufactured and procured 9,162.06 tons of disinfectants.
Daily essentials guarantee:First is to make the best use of what's available to us to secure a stable supply of goods and materials by strengthening overall planning and deployment of resources, optimizing manufacturing and allocation, and increasing releasing of stocks. Second is to establish inter-province supply platform, through which government brings leading companies into contact with more sellers. Third is to step up market deployment and price supervision to gather information timely for replenishment of commodities at marketplace, particularly medium and large supermarkets. Fourth is to guarantee key sectors are in stable and orderly supply, such as production of coal, electricity, petrol, natural gas and heating, as well as energies that concern people's life. Fifth is to intensify market supervision and safeguard market order by cracking down price hikes, particularly the crimes of hoarding, selling of sub-standard products and dissimulating misinformation. At present, the whole region sees a stable and improved demand-supply of energies, adequate provision of daily necessities, and price levels being stable.
Reporter from Xinjiang Daily
Q: Since the outbreak of COVID-19, the whole country has offered assistance to Hubei Province as well as the city of Wuhan. We know Xinjiang has sent medial teams to Wuhan. Could you talk more about it?
Xu Guixiang: This question goes to Mutalif Rozi.
Mutalif Rozi,Director of the Health Commission of XUAR:
A: Although the virus is relentless, there is love in human world. Xinjiang is a member of the big family of the Chinese nation, and it is our responsibility to meet the needs of our motherland. For a long time, Hubei has been devoted to supporting Xinjiang with great love; now that Hubei is trouble, Xinjiang is duty-bound to offer help. As representatives of Xinjiang people of all ethnic groups and viewing the outbreak as an order, medical workers from across the region have taken the initiative to apply for joining the medical support to Hubei. They have successively formed three medical teams and gone to support Wuhan on the front line of the outbreak, making their due contribution to combating the coronavirus.
The first medical team is composed of 142 doctors and nurses specialized in respiration, emergency treatment, severe disease, infection, traditional Chinese medicine, nosocomial infection and nursing from No.6 Hospital Affiliated to Xinjiang Medical University. The team has worked on the east hospital area of Renmin Hospital of Wuhan University (RHWU), and treated a total of 471 patients, among whom 105 had been cured and discharged from the hospital, as of March 7.
The second medical team consists of 102 members respectively from hospitals in Bayangol Prefecture, Turpan, Karamay, Kashgar and Hotan. The team worked in Cabin B of the Wuhan Livingroom mobile hospital, which was for treating confirmed patients with mild symptoms. As of March 7, they had totally received 283 patients, among whom, 254 had been cured and discharged.
The third medical team has a total of 142 medical staff from the People's Hospital of Xinjiang Uygur Autonomous Region. The team has taken over ward 14 and ward 15 on the east hospital area of RHWU, which are dedicated to treating patients with stubborn and critical symptoms. As of March 7, they had totally treated 97 patients, among whom, 26 had been cured and discharged.
Moreover, Xinjiang Regional Center for Disease Control has dispatched three backbone professionals to three disease control stations in Wuhan to support the local epidemiological investigation. A Hubei-supporting medical team composed of 13 medics organized by Xinjiang Non-governmental Medical Institutions Association has joined the treatment of patients with mild symptoms at Daji Mobile Hospital in Caidian District of Wuhan.
Reporter from China Global Television Network (CGTN)
Q: While carrying out the epidemic prevention and control, how does Xinjiang coordinate and promote its economic development, resumption of work and production, spring ploughing and preparation and poverty alleviation campaign?
Xu Guixiang: This question goes to Elijan Anayit.
Elijan Anayit,Spokesperson of the Information Office of the People's Government of XUAR:
A: Following the central government's decisions and deployment on promoting epidemic prevention and control and socioeconomic development as whole, Xinjiang has given equal emphasis to epidemic prevention and control and its key tasks of economic growth, resumption of work and production, spring ploughing and preparation and poverty alleviation campaign. The economic, social, production and life order has fully restored in Xinjiang.
Economic growth. We have upheld a new development philosophy, deepened supply-side structural reform, implemented the macro-control policy of the central government, strengthen the regulation of economic operation, and taken solid steps in stabilizing employment, finance, foreign trade, FDI, investment and expectations. First, we have given full play to the role of stabilizing growth with investment. Focusing on key projects, we have done a solid job in project planning, reserve and preliminary work, Policy support has also been enhanced to fully mobilize the enthusiasm of private investment, promote early implementation and orderly commencement of major projects. Second, we have actively expanded domestic demand. Efforts have been made to stabilize residents' consumption, foster and upgrade new forms of consumption and release the pent-up consumption potential. Third, we have accelerated the development of the core area of the Silk Road Economic Belt. Steps have been taken to increase high-level opening-up, actively expand diversified international markets and stabilize foreign trade and investment, so as to stimulate economic vitality through multiple measures and ensure sustained, healthy and stable economic operation.
Resumption of work and production. We have firstly provided classified guidance. Policy support has been refined to promote all links of the industrial chain to resume production in an coordinated manner. We have tried all means to help enterprises solve their difficulties and problems in employment, raw materials, capital, equipment and sales. All-out efforts have been made to achieve orderly flow of people, capital and materials, effective connection among production, supply and marketing as well as among domestic and foreign trade, hence to substantially improve the overall benefit and level of production resumption. Secondly, we have refined and improved our work in resuming operation of the service sector. Precise implementation of rescue policies has been promoted to support accommodation, catering, sporting, entertainment, transportation, logistics, tourism and other service industries as well as SMEs and individual businesses, so as to release consumption demand. Thirdly, we have made solid efforts in reduce burn, stabilize post and increase employment. Emphasis has been put on implementation of measures for promoting resumption of production through reducing social security expenses of enterprises, enhancing support for them to stabilize posts, intensifying occupational skill training, optimizing public services, and assisting employment and entrepreneurship. So far, 91.7% of enterprises above designated size and 100% of central enterprises in Xinjiang have resumed production.
Spring ploughing and preparation. We have comprehensively organized spring farming without missing the farming time during the epidemic prevention and control. Favorable policies have been carried out to promote agriculture, and benefit and assist farmers We have advanced full resumption of production of agricultural enterprises and allocation and supply of farming materials through enhancing transportation, storage and supply of chemical fertilizers, seed, pesticides and agricultural film. We have strengthened spring ploughing and preparation, protected agriculture and spring rotational grazing of livestock, promoted agro-technology to the rural areas and implemented measures of agricultural disaster prevention and mitigation, so as to lay a solid foundation for farmers to increase income. As of March 7, 1.785 million tons of chemical fertilizers, 302,000 tons of seeds, 10463.13 tons of pesticides and 147,400 tons of film have been reserved, which can meet the needs of spring farming this year. Spring wheat has been sowed in over 237,800 mu of land in southern Xinjiang.
Wining the fight against poverty. Since the 18th National Congress of CPC, the CPC Central Committee with comrade Xi Jinping at the core has attached great importance to poverty alleviation, especially secretary-general Xi Jinping has been concerned about the development of poor areas and people under poverty. Taking poverty alleviation as his most worrying agenda, and the highest responsibility to undertake, secretary-general Xi Jinping himself leads the work on poverty alleviation, and makes great efforts and make deployment and supervises in person.
The four prefectures-Kashgar, Hotan, Aksu and Kizisul Kirgiz- in south Xinjiang are one of the deep poverty areas, and thus are the hardest nut to crack in Xinjiang's poverty alleviation work. The CPC Xinjiang Uygur Autonomous Regional Committee firmly implement general-secretary Xi Jinping's important discourses on poverty alleviation and the Central Committee's decisions and policies. During the fight against COVID-19, multiple thematic meetings, including Xinjiang Poverty Alleviation and development Leading Group's meeting, a poverty alleviation supervision video meeting, a meeting for but not limited to standing members of CPC Xinjiang Committee, the 9th plenary of 9th session of CPC Xinjiang Committee-were held respectively on February 19 and 26, and March 4, 7 and 9, to deploy poverty alleviation tasks to clear barriers on the road to a complete victory over poverty. By the end of 2019, there were 3.089 million people under poverty from 779,700 households, 3,669 poverty-stricken villages, 32 poverty-stricken counties in Xinjiang, in which 2.6774 million people from 656,100 households, 324,200 villages, 26 counties are in south Xinjiang. As of the end of 2019, 2.5116 million poverty-stricken people from 614,100 households, 2,683 villages, and 16 countries had been lifted out of poverty, with the poverty headcount ratio down to 2.21%from 29.1% in 2013. Our work next step is to focus on providing people under poverty with adequate food and clothing as well as compulsory education, basic medical care and housing, remain steadfast to poverty alleviation goals and take more targeted measures, so as to fight a victorious battle on poverty with concerted efforts and to consolidate poverty alleviation results. By then the remaining 10 counties, 559 villages and 165,800 people are surely to be lifted out of poverty.
Institute supervision mechanism down through all administrative levels. Officials at provincial level are sent to county and prefectural levels to supervise and guide poverty alleviation work, accordingly officials at county and prefectural levels stationed to villages, and cadres of county government departments and townships, first secretaries of poverty-stricken villages, members of working groups at villages, poverty alleviation cadres assigned to be responsible for households. Make sure poverty alleviation plan differentiated from village to village and family to family, and proceed ahead according to schedule. We will supervise plan implementation, correction of problems, consolidation of results and quality control through poverty alleviation. Remaining steadfast to the goals and committed to crack the hardest nuts, we will surely lift all the remaining impoverished people and counties out of poverty.
Fully implement the precise poverty alleviation measures. We will adhere to the "six-point precisions" and come up with locality-specific and family and person specific poverty relief plans. And we will earnestly press ahead with the seven-batch policy via industrial development, relocation for employment, land allocation, working as border rangers, eco-compensation, education and social security. We will step up the role of industrial development and employment in poverty alleviation, precedence will be extended to impoverished people in employment and make sure them all be employed, with able-bodied ones being in work and with stable income. At the same time, we will see to it that impoverished people who have been out of poverty make no less income and don't return to poverty.
Addressing protruding issues and weak points. investigation for omissions and weakness will be conducted with focuses set on the guarantees of education, housing and medical care. Following-up measure will be taken to ensure the access to safe drinking water for the last batch of 15,300 impoverished people in the first half of this year so as to realize that all poverty-stricken population in Xinjiang will be free from drinking water safety worries. Efforts will be strengthened to increase school enrollment rate and reduce drop-out rate to effectively stop the children in poor families from being deprived of rights for education, or left out of schools; Free health check-up program will be carried out annually and the prioritized treatment to 113,000 patients with tuberculosis will be arranged. Coordinated approach will be taken to increase the coverage of basic medical basic medical insurance, serious illness insurance and medical assistance allowances, as well as supplementary medical insurance at impoverished areas to support their lives during and after being caught by serious illness and to prevent the families from dragging to poverty or falling back to poverty because of illness.
Forth,strengthen assistance mechanism. Relying on the poverty alleviation big data platform, mechanism of dynamic monitoring and assistance will be improved and implemented to prevent the cases of falling back to poverty with index of incomes, supply of feeding and clothing, access to education, housing and medical care taken into consideration so that the problems could be addressed with more precision, and targeted assistance provided promptly and repeated and newly emerged poor population could be effectively reduced.
Taking good use of poverty relief funds. Since 2017, the regional authorities have established a poverty alleviation risk fund since 2017, with annual injection of 2 billion yuan and an accumulated amount of 8 billion yuan up to now, to address the possible risks in process of fighting against poverty and cases of falling back to poverty. When necessary, the fund will be used to secure the steady income and job opportunities for poverty-stricken population and guarantee the progress schedule and quality of poverty alleviation cause.
Securing the cause with strong sense of responsibilities and accountability. The regional CPC party committee is responsible for the overall work of poverty alleviation with party secretaries as the heads in five levels of administrative organs from the region to the village. Unremitting efforts will be taken to make sure that even if the targeted household have been lifted out of poverty according to present standard, related officials will not be exempted from due responsibility of support them, all preferential polices and assistance measures will remain unchanged and the supervision mechanism will not be ceased. All forces working in poverty alleviation endeavors at various levels will be maintained to effectively consolidate and expand the poverty relief outcomes with the paring-up support mechanism maintained for long-term and sustainable development of these areas.
Reporter from China Media Group
Q: We've noticed that some East Turkistan forces outside China deliberately articulated rumors about Xinjiang, such as "the vocational and education training centers in Xinjiang are at risks of COVID-19 spread", "Xinjiang is hiding the truth of its epidemic situation and "Xinjiang is eliminating Uygur people with the spread of the virus", etc. What is your comment on these voices?
Xu Guixiang: This question goes to Elijan Anayit.
Elijan Anayit,Spokesperson of the Information Office of the People's Government of XUAR:
A: Since the outbreak of COVID-19, we have firmly implemented the decisions and arrangements made by the CPC Central Committee on the virus prevention and control work with the safety and health of Xinjiang people of all ethnic groups always taken as the top priority.We are taking all efforts to the epidemic prevention and control work with firm determination, strong will, as well as decisive measures. At the same time, with an highly responsible, practical and realistic and transparent attitude, we share our virus-related information with the public every day, responding actively to the social concerns and media focuses. Till March 8th, the news articles and reports issued by various media across Xinjiang have exceeded 11,960 pieces.
Presently, all 73 patients confirmed with COVID-19 infection have been cured and discharged from hospital, and no new case has been confirmed for 23 consecutive days. We are fully confident that with the strong leadership of Communist Party of China, the abundant advantages of the Socialist System with Chinese characteristics, the great supports spared by the international community and the united wills and hands of Xinjiang people of all ethnic groups, we will definitely, with rest part of the country, to win over the devil of virus with an all-out and people's war .
We've also noticed that some East Turkistan forces are articulating sensational rumors about Xinjiang saying something like the vocational education and training centers are at risks virus infection, Chinese government is taking use of the virus to eliminate Uygur Muslims, or Xinjiang is hiding truth of its infection cases. And US Senator Rubio simply couldn't tell the truth or false information and made ill-intention comments to confuse the right with the wrong with no factual basis at all. We strongly deplore and condemn all these fabricated slanders and attacks.
I would like to stress here again, the vocational educationand training Centers established in Xinjiang are no "camps", but school-like deradicalization institutions set up according to law to address the severe challenges of recurring violent and terrorist attacks. It has been formally announced by Mr. Shohrat Zakir, Governor of Xinjiang Uygur Autonomous Region at a news release on December 9, 2019, that all trainees had left the centers after completion of their courses of learning standard spoken and written Chinese, knowledge of law and regulation and occupational skills, secured stable employment with the help of the government and started a happy life with increasingly improved quality. I can't help but asking, how could it be possible for risks of large scale of infection in the centers when all trainees had graduated already?Ignoring the fundamental facts, these East Turkistan forces are just making up lies to smear Xinjiang, which is ridiculous and ludicrous in every way.
Reporter from Global Times
Q: Recently, the US State Department gave the 2020 International Women of Courage Award to Sayragul Sauytbay and Secretary Pompeo Commended how she "bravely provided accounts of Xinjiang's internment camps" Do you have a feedback on this?
Xu Guixiang: This question goes to Elijan Anayit.
Elijan Anayit,Spokesperson of the Information Office of the People's Government of XUAR:
A: We have publicized several times the suspected crimes Sayragul Sauytbay had committed in China and espoused the lies she had fabricated. The US State Department just conferred the so-called 2020 International Women of Courage Award to Sayragul Sauytbay, a suspected criminal of Chinese citizenship from Xinjiang. Its also took the occasion to attack and smear China's Xinjiang policy. Xinjiang government and its people of all ethnic groups strongly deplore and reject it.
Today, I wold like to reiterate here: Sayragul Sauytbay is on Xinjiang public security authorities' online list of wanted persons for suspected crimes including illegal border crossing and loan fraud. She never worked in any vocational education and training center. She made up lies to confuse the public and smear Xinjiang, a despicable an vile act indeed.
First of all, Sayragul Sauytbay is a suspected criminal on Xinjiang public security authorities' wantedlist on line. On April 5, 2018, Sayragul sneaked cross the border and went to Kazakhstan from China-Kazakhstan Horgas International Border Cooperation Center, which was taken as an conduct of illegal border crossing according to Article 322 of Criminal Law of People's Republic of China. And in June, 2015, She applied for a 10-year-term repayment loan of 200,000 yuan with forged guarantee materials and guarantor's signature from a Rural Credit Cooperative at Chahanwusu Town , and currently she still has 149,000yuan of the loan debt outstanding. Again, inDecember, 2016, she applied for another 10-year-termloan of 270,000yuan with fabricated purchase contract, which she now still owes 249,000yuan on debt. Hence, she is under charge of loan fraud according to Article 193 of Criminal Law of People's Republic of China.
Secondly, she is known for her bad conducts and rumor mongering. Sayragul claimed that she graduated from medical university and used to a doctor. But the truth is she had studied in Nursery class of Xinjiang Ili Health School, and she had no working experience as doctor. She told the public that she used to teach Chinese in vocational educationand training center, as a matter fact, she never worked in the center at all.
Thirdly, she seeks nothing but profits and was disguised back home. She was once head of the Central Kindergarten of Chahanwusu Township of Zhaosu County, but she misused her position power and infringed her peer teachers' rights by taking the collective performance rewards and lined her own pockets. Her colleagues were all very happy when she was caught and exempted from her position. Sayragul asked her younger sister Panar to borrow a loan of 45,000 yuan and to buy her car out, but didn't transfer the car's ownership to Panar before leaving China illegally. Her sister was righteous resentful about this and ashamed to be in association with her on more.
Such a shameless person as Sayragul Sauytbay is, yet, she was portrayed as a "human rights fighter" by some American politicians who just turned blind eyes to the facts but repeatedly smeared Xinjiang with her lies and misled the international media. The US obstinately named Sayragul Sauytbay winner of its International Women of Courage Award, which will not only condone and encourage her suspected criminal activities, but also bring insult on and a travesty of human rights. We warn sternly here that using such a low-level acts to interfere with the domestic affairs of China and its Xinjiang policy, to incite the so-called "Xinjiang human rights" issue are abominable, shameful and ridiculous to all.
Xu Guixiang: Today's press conference concludes now. Thanks all the invitees and reporters.