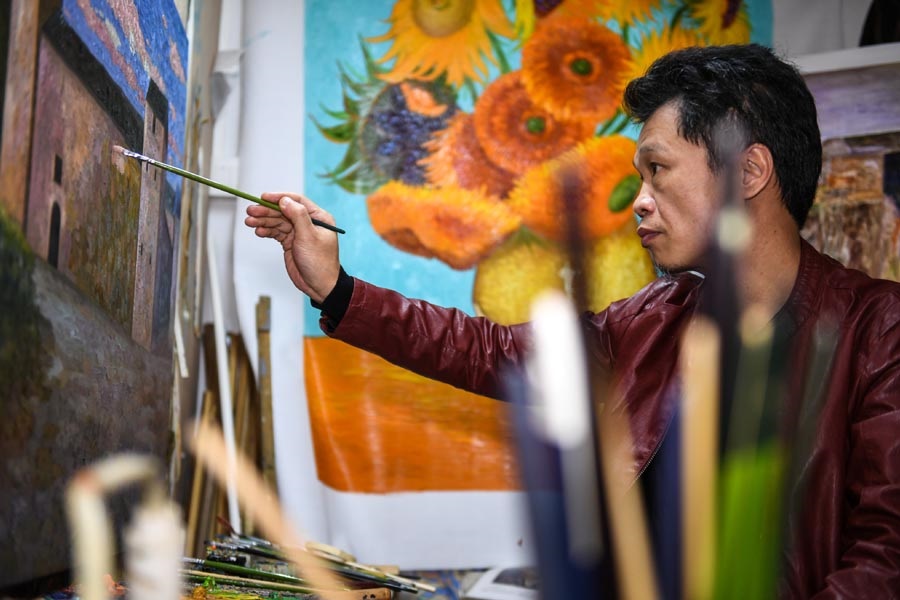 A Chinese painter works at his studio in Dafen village, Shenzhen in South China's Guangdong province on Jan 11, 2019. [Photo/Xinhua]
President Xi Jinping's important speeches in recent years have set the direction for the development of China's social sciences and the creation of artists, political advisers said on Monday.
Li Qianguang, a CPPCC member and vice-president of the China Federation of Literary and Art Circles, said the federation has trained 85,000 members in the past two years with a focus on Xi's speeches.
"The training program has gained popularity among us," Li said during a discussion Xi attended with advisers on Monday. "The writers and artists of the CFLAC could feel the great attention paid by the CPC Central Committee to artistic work, and their ideas also have become clear on their glorious mission," he said.
Addressing the 10th national congress of the CFLAC in November 2016, Xi urged the artists and writers to strengthen their confidence in Chinese culture and create excellent works to inspire the nation.
"Promoting socialist core values should be fundamental to artists and writers, who should firmly resort to the Chinese people's thoughts, emotions and aesthetics to create works catering to the times and featuring notable Chinese elements," Xi said at the meeting.
In another tone-setting speech in October 2014, Xi said that the role of literature and art is irreplaceable in realizing the Chinese Dream of the great rejuvenation.
Gong Hanlin, a CPPCC member and actor, said that he was impressed by Xi's emphasis on people-centered philosophy in artistic works.
"General Secretary Xi told us that we must be rooted in the people and our works must reflect the people's voice," he said, adding that it is the artists' important mission to learn from the people and reflect their thoughts.
Tian Qinxin, a CPPCC member and deputy head of the National Theater of China, said that the artists and writers should know the Party's policies and make the grassroots people's voices heard by all of society.
"I feel that General Secretary Xi is humorous, just like our brother. He mentioned his experience of eating Yuanyang (a domestic brand ice cream) and drinking Arctic Ocean (a classic Beijing soda brand), and I think he is very easygoing," she said.