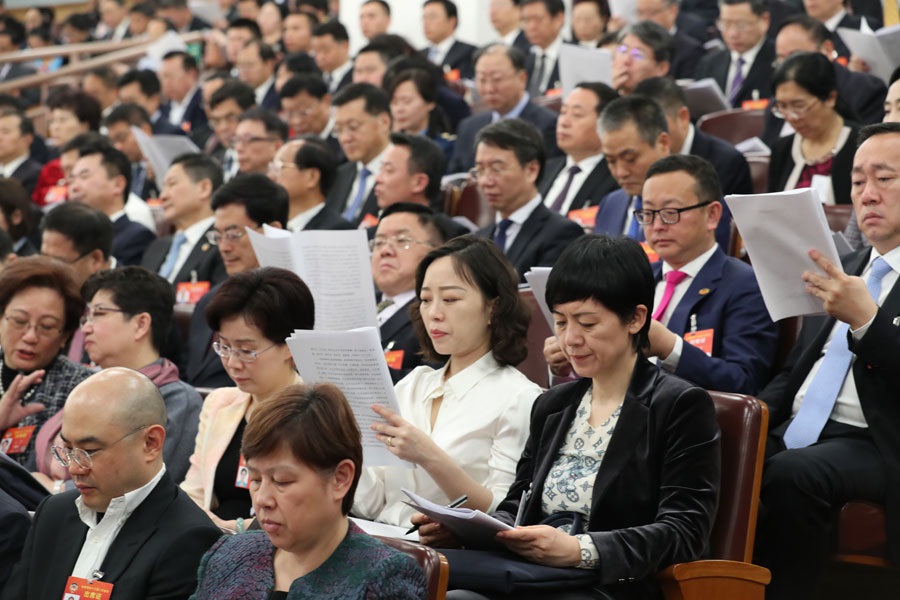 The 13th National People's Congress, China's national legislature, opens its second session at the Great Hall of the People in Beijing, March 5, 2019. [Photo by Kuang Linhua/chinadaily.com.cn]
The Government Work Report, delivered by Premier Li Keqiang on Tuesday, received high marks from national lawmakers and netizens, a senior official said.
The report's drafting group had sought suggestions from State Council departments, provincial regions, netizens and foreigners, Huang Shouhong, head of the State Council Research Office and head of the drafting group, said at a briefing hosted by the State Council Information Office on Tuesday.
"I believe you can feel the support of National People's Congress deputies and members of the National Committee of the Chinese People's Political Consultative Conference from their applause, which shows their support for the report and expectations of the whole society," Huang said.
Huang said more than 4,000 copies of the draft were sent to each department and region, and the group sorted out more than 1,200 suggestions from the feedback that was received.
The Government Work Report was highly rated by many netizens for its policies and measures boosting development, reform and opening-up and to improve people's livelihoods, he said. He said the drafting group continued to collect opinions from netizens, via portal websites, social media, online forums and other new media outlets.
The drafting group convened several meetings and conducted surveys to collect firsthand opinions and suggestions before writing the report, Huang said.
In addition, the State Council Research Office and the Ministry of Science and Technology also solicited suggestions from dozens of renowned international experts, he said.