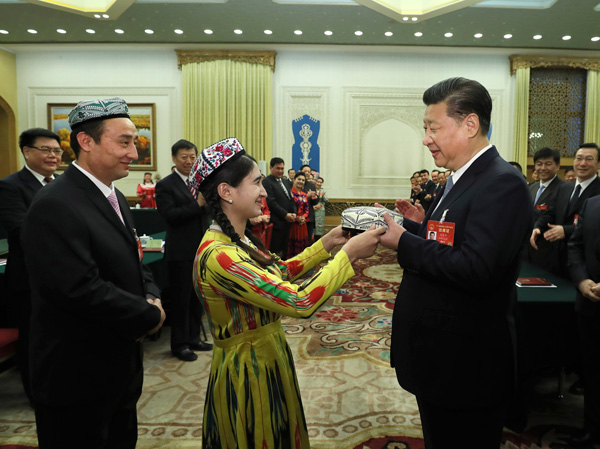 Chinese President Xi Jinping receives a gift from a NPC deputy from Xinjiang Uygur autonomous region at a panel discussion in Beijing on Friday during the ongoing National People's Congress. [Photo/Xinhua]
Xi, also general secretary of the Communist Party of China Central Committee and chairman of the Central Military Commission, made the remarks during a panel discussion with national lawmakers from Xinjiang at the ongoing annual session of the National People's Congress.
Xi called for safeguarding ethnic unity, and reinforcing solidarity between the military and government, soldiers and civilians, police and the people, as well as between the production and construction corps and local communities.
Xinjiang is an important "security barrier" in northwest China which holds a special strategic position and faces special issues, Xi said, adding that governing the region well is of great significance.
He stressed that maintaining stability in Xinjiang is a political responsibility, and that stability-related issues must be handled in a thorough, timely and proper manner.
He called for efforts to make long-term strategies, strengthen the foundation, and achieve lasting peace and stability in Xinjiang.