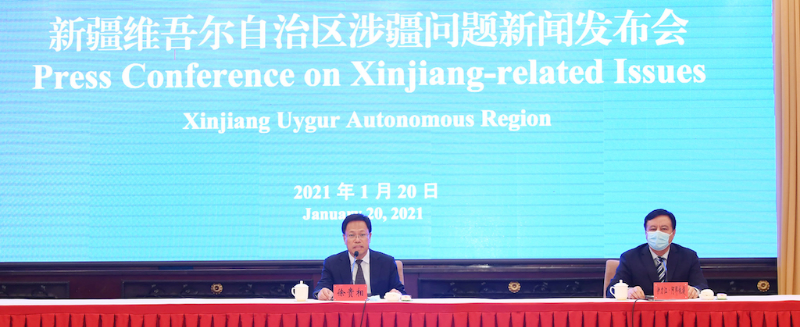 Photo taken on January 20, 2021 shows the Press conference on Refuting US Secretary of State Mike Pompeo's Xinjiang-related Lies held in Urumqi, capital of northwest China's Xinjiang Uygur Autonomous Region.Photo by Wang Zhen of Xinjiang Daily
On January 19, the US issued a press statement in the name of Secretary of State Mike Pompeo, making groundless accusations and ill-intended smear attack against Xinjiang. Pompeo alleges Xinjiang's policy on Muslims and ethnic minorities has constituted "crimes against humanity" and "genocide," which is nothing but a pack of lies. The so-called determination is just a piece of scrap paper. It grossly interferes in China's internal affairs and tramples on international law and norms governing international relations. Xinjiang and its people of all ethnic groups strongly denounce and oppose it.
Taking in pride of "lying, cheating and stealing," the US Secretary of State has been acting like a mad dog in his last days in office, barking nonsense laced with stink cold war mentality, frantically attacking and smearing Xinjiang, only to impress the world what is doomsday craziness in practicing his "lying diplomacy" to the end, and to expose his ugly face as the "worst and shameless" secretary of state in American history.
Today, we are convening here to hold a press conference to chronicle the sins he has committed and hammer the last nail on the coffin of his "poisonous political legacy."
Xu Guixiang: Dear friends from the press, good evening. Now, we open the floor for questions.
Xinhua News Agency: Thank you, the host. Pompeo alleges that Xinjiang imposes "forced sterilization" against Uygurs and other ethnic minorities, committing "crimes against humanity." What is your comment?
Xu Guixiang: This question goes to the Spokesperson of Information Office of the People's Government of XUAR Elijan Anayit.
Elijan Anayit: Pompeo's "genocide" accusations against Xinjiang are totally sinister rumors. In fact, the US is the country that practices "genocide." As is known to the world, ethnic minorities in the US have long been suffering from bullying, exclusion and wide, systemic discrimination in economic, cultural, social and other aspects. From killing American Indians to slave trade, American history has been a history tainted with blood and tears of ethnic minorities. Over the years of his tenure, Pompeo has done nothing about the rampant racial discrimination. The death of African American George Floyd, the subsequent mass protests exposed once again the US's protracted and systemic serious racial discrimination, which has led to ethnic minorities crying "I cannot breathe." What Pompeo and the US has done goes against international justice and values, human morality and conscience, and international human rights norms and the principles of the international conventions on human rights. Pompeo himself is a daring vanguard of the "genocide" in the US.
In fact, the population of ethnic minorities including Uyghur, has been increasing consistently. According to statistics, from 2010 to 2018, the permanent resident population of Xinjiang rose from 21.8158 million to 24.8676 million, with an increase of 3.0518 million persons, which grew by 13.99%. Specifically, the population of ethnic minorities rose from 12.9859 million to 15.8608 million, with an increase of 2.8749 million persons, which grew by 22.14%; Uyghur population rose from 10.1715 million to 12.7184 million, with an increase of 2.5469 million persons, which grew by 25.04%; the Han Chinese population rose from 8.8299 million to 9.0068 million, with an increase of 176,900 persons, which grew by 2.0%. Uyghur population is not only higher than that of the population in Xinjiang, but higher than that of the population of other ethnic minorities, and is significantly higher than that of the Han Chinese population. Xinjiang implements the family planning process in accordance with the law, and prohibits those illegal activities such as the late-stage abortion, compulsory sterilization and forced pregnancy test. People of all ethnic groups could voluntarily decide to take contraception or not and chose the manner on contraception. No organization or individuals could interfere in. There are no "forced sterilization" at all. Is there any place around world could bring out the rocket-high increase on population after so-called genocide? Pompeo must have rocks in his head.
Xu Guixiang: Thank you for your answer, Elijan Anayit. Please go ahead to raise questions, media friends.
China News Service: Thank you, the host. Pompeo claimed that there's forced labor targeted at Uyghur and other ethnic minorities in Xinjiang. What's your opinion on this?
Xu Guixiang: Pompeo's attacking on Xinjiang's forced labor targeted at Uyghur and other ethnic groups is out of thin air. As a matter of fact, the U.S. is where forced labor is happening with severe violation of workers' human rights, especially those of the minorities. In particular, it has admitted in their annual Trafficking in Persons Report issued by the US that the United State is the source, destination and transit country for human trafficking in the world, and even some American officials are involved in human trafficking and forced labor. On June 10, 2015, the International Trade Union Confederation issued a report which listed America as one of the countries that have systematically violated workers' rights. Pompeo turns blind eyes and deaf ears on those ironical facts, instead, he makes irresponsible remarks on Xinjiang employment issues, aiming to cover his blemishes. The more he tries to conceal, the more conspicuous it turns out.
In real practice, laborers of all ethnicities in Xinjiang choose their jobs out of their free will, and sign labor contracts with and receive payment from companies on the basis of equality and voluntariness according to The Labor Law of People's Republic of China and relevant regulations. They enjoy full freedom in deciding where to work. Issues such as salary, rest and leisure, occupational safety, social security benefits are all protected in accordance with the law. Their customs, languages and cultures, religious beliefs are fully respected and protected by law regardless of their working places. Pompeo's attempt on attacking and smearing Xinjiang's labor and employment situation is in fact a torn and tattered "slander making machine".
Xu Guixiang: Please go ahead to ask questions.
China Daily: Thank you, the host. Pompeo said that more than one million Uyghurs and other ethnic minorities had been detained and large numbers of detainees were tortured in the Vocational Education and Training Centers of Xinjiang. What's your comment on it?
Xu Guixiang: This question goes to the Spokesperson of Information Office of the People's Government of XUAR Elijan Anayit.
Elijan Anayit: Pompeo's slander and smear on the vocational education and training centers in Xinjiang are complete fabrication. The US has established detention centers in Guantanamo Bay and many parts of the world to secretly hold detainees. It's known that when Pompeo served as director of the CIA, he took part in it and did a lot of evil things, implementing grievous and inhumane tortures on detainees. The UK Independent website reported on December 14, 2017 that Nils Melzer, the United Nations Human Rights Council special rapporteur on torture said that detainees in Guantanamo prison are tortured and ill-treated, which is prohibited by international law, and he urged the US to end its torture of detainees held at the controversial Guantanamo Bay detention facility. Los Angeles Times reported on its website on July 26, 2018 that a Pakistani, mistaken for an extremist, was imprisoned and tortured in Guantanamo for as long as 14 years without trial, resulting in serious physical and mental damage. Who on earth is building "concentration camps?" Who is conducting torture?Who is trampling on human rights? I believe the whole world can see it clearly!
As a matter of fact, vocational education and training centers are educational and training facilities lawfully established during the period of time when terrorist attacks frequently happened in Xinjiang, aiming to eradicate terrorism and religious extremism from the root, which are no difference with efforts of other countries and regions, for instance, DDP program of the UK and deradicalization centers in France. They are conducive trials and probes into preventive measures for anti-terrorism and deradicalization in line with the principles of UN Global Counter-Terrorism Strategy. The personal freedom of trainees at the education and training centers is protected in accordance with the law. The centers guarantee that trainees' personal dignity is inviolable, and prevent any insult or abuse in any manner. The trainees also enjoy personal freedom and freedom of correspondence. The centers employ a residential education model which allows trainees to go back home on a regular basis and ask for leave to attend personal affairs. The right to use ethnic spoken and written languages are fully protected at the centers. The regulations, curriculum, and menus at the centers are all presented in local ethnic languages as well as standard Chinese. The customs of all ethnic groups are fully respected and protected, and a variety of nutritious Muslim food is provided free of charge. Each trainee gets 20-yuan food allowance. Trainees' freedom of religious beliefs is fully respected and protected and they can decide on their own whether to conduct legal religious activities when they get home. The centers have well-equipped facilities. There are sports venues and entertainment venues which ultimately satisfy trainees' needs in study, life and recreations. There's also free 24-hour medical facilities available to trainees, capable of treating minor ailments. There are legal counseling rooms to address trainees' problems and difficulties concerning legal affairs, and mental counseling rooms to provide relevant services and care for their mental health.
I'd like to ask Pompeo: are there "concentration camps" like these in the world ?
Xu Guixiang: Thank you for your answer, Elijan Anayit. Please go ahead to raise questions, media friends.
Xinjiang Daily: Thank you, the host. Pompeo alleged that Xinjiang suppressed and destroyed local Muslims' religious freedom. How do you respond to that?
Elijan Anayit: Pompeo's denigrating Xinjiang's religious work aims to sow discord between China and Islamic world with malicious intentions. It is noted that the US issued Muslim Ban discriminated Islam and Muslims avowedly, which has shocked the international community. American policies' intolerance towards Islamic world continue to deteriorate after Pompeo served as Secretary of the US. In the US midterm election in 2018, over 1/3 of the candidates considered that Muslims are born in nature of violence or they may pose imminent danger; nearly 1/3 of the candidates appealed for deprivation of Muslims' basic rights or claimed Islam is not a religion. A investigation in March, 2019 shows that 82% of the interviewees think that Muslims in the US are facing with at least some discrimination; 56% of the interviewees think that Muslims are facing with much discrimination.
As a matter of fact, freedom of religious belief of all ethnic groups is well respected and protected. China's Constitution stipulates that citizens are entitled to freedom of religious belief. No state organ, public organization, or individual may compel citizens to believe in, or not to believe in any religion; nor may they discriminate against citizens who believe in, or do not believe in, any religion. The State protects normal religious activities. In Xinjiang, normal religious activities, such as recitation, praying, Koran teaching, fasting, and celebrating Islamic festivals, conducted by Muslims at home or mosques are all believers' voluntary activities and protected by law allowing no interference. In March 2019, the Council of Foreign Ministers of OIC adopted a resolution commending China's efforts in providing care to its Muslim citizens.
Xu Guixiang: Please go ahead to raise questions, media friends.
Global Times: Thank you, the host. Not long ago, Pompeo announced to revoke the designation of East Turkestan Islamic Movement (ETIM)as a terrorist organization. What's your comment on this?
Xu Guixiang: Pompeo is acting as a rather insidious hidden hand for terrorism. As we all know, ETIM is a terrorist organization recognized by the United Nations Security Council and the international community. For a long time, with the purpose of separating Xinjiang from China, ETIM has spread violent terrorist thoughts in the guise of religion, instigated, planned and implemented a series of violent terrorist activities, greatly harming people's lives and property safety. The "October 28" violent terrorist attack in Beijing Jinshuiqiao, the "March 1" serious violent terrorist incident in Kunming, Yunnan, and the "April 30" violent terrorist attack in Urumqi South Railway Station in Xinjiang were all planned and implemented by the ETIM. In December 2019, China International Television Station (CGTN) broadcast the documentary Evil Backstage Manipulator—ETIM and Anti-terrorism Struggle in Xinjiang, and presenting a large number of objective and real cases about the crimes of ETIM in Xinjiang including instilling extreme ideas, inciting national hatred, poisoning women and children, and creating violent terrorist incidents, revealing that the ETIM is part of the international terrorism system and threats both China and the whole world. Ignoring the bloody crimes committed by the ETIM, Pompeo argued blindly for terrorism, and revoked designation of ETIM as a "terrorist organization". This practice of going back on his work, broke the promise make by the United States government, badly undermined international cooperation on anti-terrorism, and exposed the scandal of USA's shielding and supporting terrorists once again.
He has connived at and supported East Turkestan terrorists for a long time. He met some members of the notorious terrorist and separatist organizations, including Arapat Arkin, Furqat Jawdat and others many times, kept in touch secretly with them, and even argued for them with the banner of human rights and democracy. Those activities of treating terrorism at a tool to contain others, fully expose Pompeo's double standards on anti-terrorism, the hypocritical performance that they treat terrorists differently in line of their own interests, and the vicious intention of containing China with terrorists. It is like playing with fire. Pompeo should recall what was the consequence of sponsoring Bin Laden. It is like smashing his own feet with lifting rock.
Photo taken on January 20, 2021 shows the Press conference on Refuting US Secretary of State Mike Pompeo's Xinjiang-related Lies held in Urumqi, capital of northwest China's Xinjiang Uygur Autonomous Region.Photo by Wang Zhen of Xinjiang Daily
Xu Guixiang: Please go ahead to raise questions, media friends.
China Media Group: Thank you,the host. It is said that Xinjiang's restriction on ethnic minorities' freedom of speech and action is the violation of human rights. What's your comment on that ?
Xu Guixiang: The United States itself has a terrible record on human rights, how is Pompeo in any position to speak about human rights issue in the first place. In more than a decade, the State Council Information Office of People's Republic of China has kept issuing detailed records of the US human rights situation to the public. As reported by the Atlantic website of the US on June 20, 2018 that human right expert said that the US's withdrawal from the UN Human Rights Council was to prevent the accusation from other members states on its own human rights violation. It can be said that from the history till today, the US has behavior pretty bad on human rights issues. As a country that had withdrawn from the UN Human Right's Council has no right and position to criticize other countries. However, Pompeo still talks barefaced nonsense about Xinjiang, attacking the region as exercising large scale of human rights violation viciously. What he holds in his mind is very clear to us. He actually wants to interfere with the domestic affairs of China, drag Xinjiang into a trap of so-called human rights violation, mislead the global public opinions about China, and whitewash his infamous political legacies in disguise of showing cares about people in Xinjiang. Mr. Pompeo is indeed a trouble maker for world human rights.
As a matter of fact, the cause of human rights in Xinjiang continues to advance, and people of all ethnic groups in Xinjiang now have growing sense of fulfillment, happiness and security. Firstly, Xinjiang has maintained social stability. There hasn't been a violent, terrorist case over the past four years and cases of criminal and public security have fallen dramatically, the precious peace and stability that expected by people of all ethnic groups' for long has been realized. The record of domestic and foreign visitors to Xinjiang has been broken several times, for instance, 150 million visitors came to Xinjiang in 2018, with an increase of 40.09% than the previous year, and in 2019, the figure was 213 million and an increase of 41.96%. Secondly, Xinjiang has witnesses steady and healthy economic growth. Holding on to the new outlook on development, the region has accelerated its high quality economic progress in recent couple years. From 2014 to 2019, the gross domestic product in Xinjiang grew at an average annual rate of 7.2% from 9195.9 billion yuan to 13597.1 yuan. The general public budget revenue has increased from 128.23 billion yuan to 157.76 billion with an annual growth rate of 5.7%. The infrastructure has been improved gradually, all prefectures and cities of the region now have access to highways, all administrative villages have connections with paved ways, buses, electricity supply and communication fibers. Thirdly, people's lives has been tremendously improved. From 2014 to 2019, the per capita disposable income of Xinjiang residents grew at an average of annual rate of 9.1%. 1.69 million new safe houses have been built up in rural areas, and 1.56 million affordable apartments in urban areas in which more than 10 million people now lived with happiness. The nine-year compulsory education has been provided to cover the whole region, while in southern Xinjiang the three-year pre-school nursery and twelve-year fundamental education are free to all kids. The basic public service level has been improved continuously with social insurance system completed day by day. 99.7% of residents has been covered by basic medical insurance, and free health examination has been offered to all Xinjiang residents since 2016. In all health-care centers at townships and clinics at villages have been established with unified national standards. Fourthly, the traditional cultures of ethnic minorities have been well protected and developed. The excellent pieces, such as the Uygur Twelve Muqam arts, Kirgiz epic Manas and Uygur Meshrep have been registered on the list of Masterpieces of Human Intangible Cultural Heritages. Ethnic spoken and written languages have been extensively used in sectors of justice, administration, education, news and press, broadcasting and TV programs, Internet services and other social public affairs. Fifthly, decisive achievements has been made in the poverty reduction endeavor. Under current standard, 3.0649 million impoverished households in 3666 poor villages of 32 poor counties have all been lifted out of poverty in Xinjiang, and the problem of absolute poverty has been solved historically.
Under the leadership of Communist Party of China, earthshaking changes have taken place in Xinjiang with unprecedented achievements made in social and economic developments, people's livelihoods improvements, human rights protection. Now the favorable situation of social stability and people's harmony have been achieved in both southern and northern Tianshan Mountains, which is open to be seen by the whole world, and can never be erased by the lies and smears made by buffoon such as Pompeo. We believe, there will be more peace in the world and Xinjiang will be more stable and harmonious after Pompeo along with his smears are dumped to history. And what he said and done will be remembered by the history forever as a shame of the US and symbol of infamy!
Xu Guixiang: Today's press conference concludes now. Thanks all the invitees and media friends.