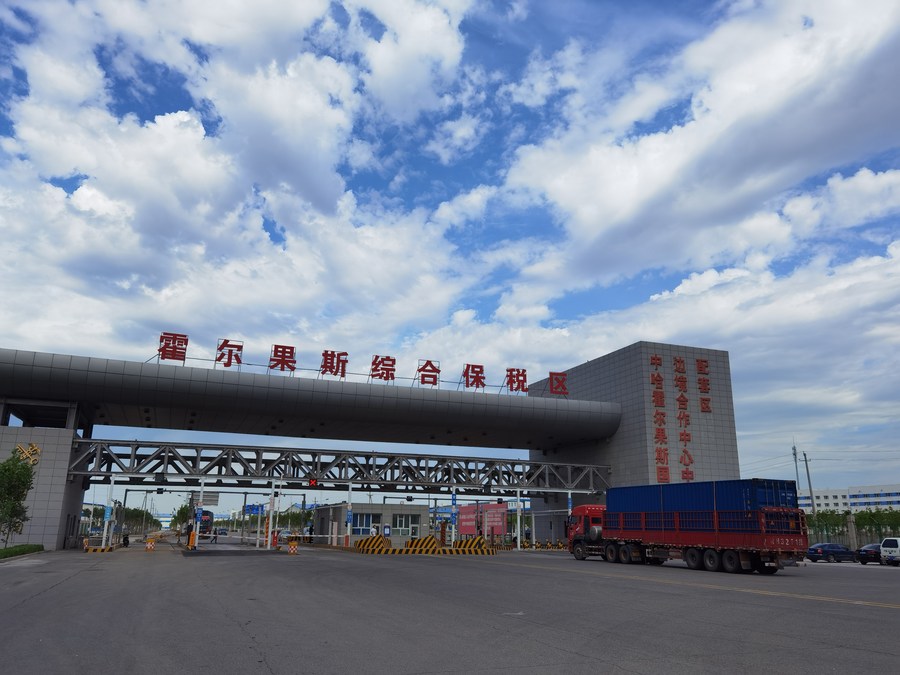 A truck loaded with cross-border e-commerce packages arrives in Horgos Comprehensive Bonded Area, northwest China's Xinjiang Uygur Autonomous Region, June 3, 2021. (Xinhua/Gu Yu)
The Horgos port, a border port in northwest China's Xinjiang Uygur Autonomous Region, resumed passenger customs clearance on Sunday, welcoming its first wave of inbound tourists of 2023.
From Jan. 8, customs clearance will be resumed in Irkeshtam, Karasu and Takixken, the region's three other road ports, respectively bordering Kyrgyzstan, Tajikistan and Mongolia.
"It's convenient to take an international intermodal bus to China after the resumption of the customs clearance," said Belik Zhanuzakov, who is from Kazakhstan and arrived at the Horgos port, which borders Kazakhstan.
Due to the pandemic, Belik Zhanuzakov had to do business with his Chinese partners online. "Now we have the chance to talk face to face," he said, expressing the hope that his business will grow.
In order to ensure smooth customs clearance procedures for passengers at ports, Xinjiang customs departments have made individual plans based on the characteristics of each port. Border inspection authorities have also increased the publicity of exit and entry policies and made arrangements for accommodation and catering at ports.