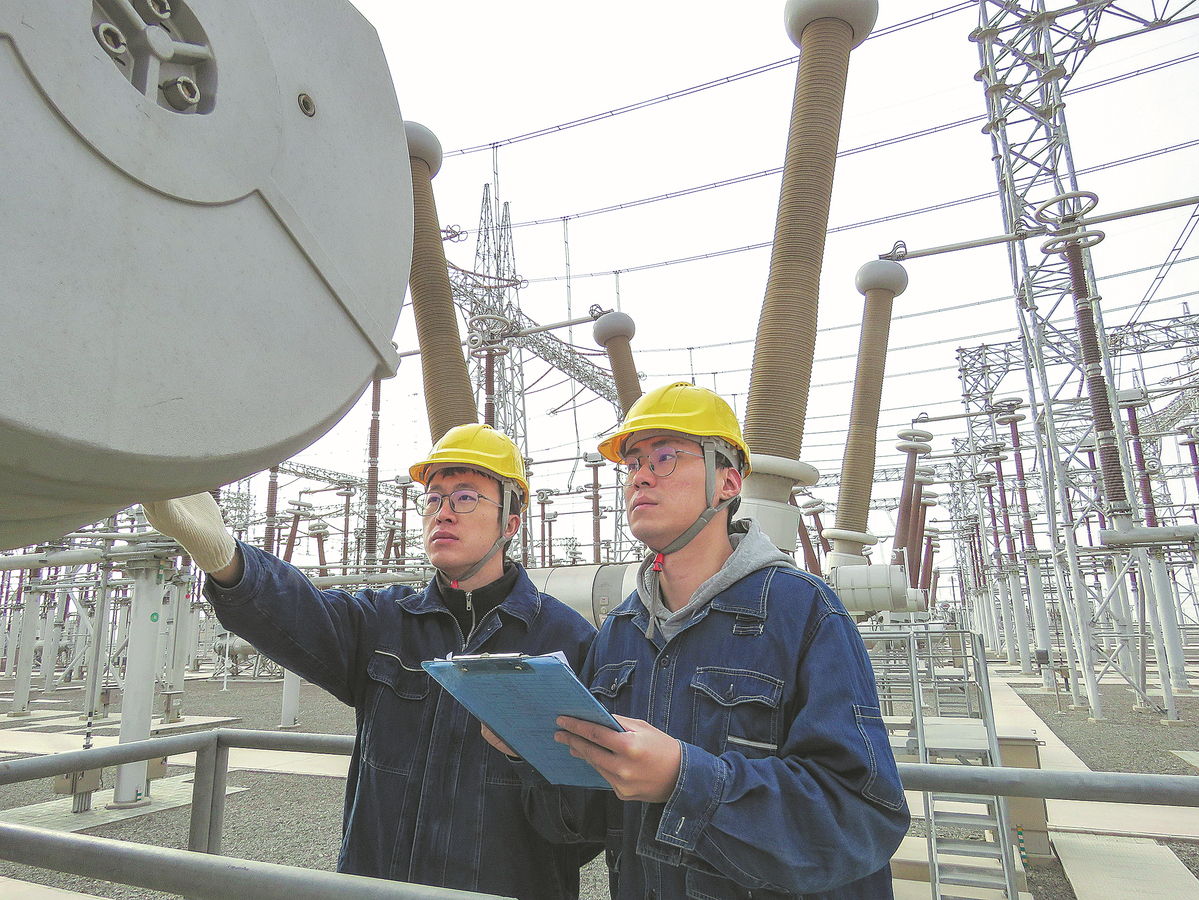 State Grid employees check equipment at a power station in the Xinjiang Uygur autonomous region on Nov 9, 2022. [Photo/Xinhua]
State Grid Xinjiang Electric Power Co began construction on Tuesday of a 750 kV power transmission project in Bayingol Mongolian autonomous prefecture in the Xinjiang Uygur autonomous region. It is the first ultra-high voltage power grid construction project of the year for the company.
The project has a total investment of 4.6 billion yuan ($66.24 million) and will include the construction of a substation and a switching station at 750 kV in Bayingol's Ruoqiang county.
The project will add new transformer capacity of 3 million kVA to the existing electrical systems of the prefecture. A 750-kV power line, spanning 875 kilometers, is expected to be operational by December next year.
The project will be built under harsh natural conditions in deserts and wastelands on the southwest side of Tarim Basin, where crews will be faced with scorching heat, severe cold and sandstorms.
Upon completion, the project will meet the increasing demand for electricity in Ruoqiang county, promote the development of new regional energy projects, facilitate new energy consumption, optimize energy allocation and ensure power supplies. It will also boost economic growth and fuel green development.
According to Si Weiguo, president of the Xinjiang power company, the start of the project is an important moment — a "good start" for the region's post-pandemic economic recovery.
Xinjiang has already completed the construction of 44 750-kV power transmission and transformer projects, building 26 substations, a power line of more than 9,000 km, and a transformer capacity of 72.8 million kVA.
During the 14th Five-Year Plan period (2021-25), a total investment of 110 billion yuan will be used on Xinjiang's power grid, 55 percent growth from the previous five-year period.