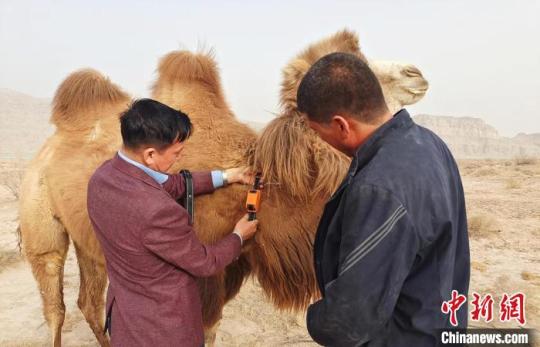 A technician puts a smart collar on a camel in Tumxuk, Xinjiang Uygur autonomous region. (Photo/China News Servoce)
With the help of modern technology, herders in Tumxuk, Northwest China's Xinjiang Uygur autonomous region no longer need to worry about camel herding and penning, an activity that used to be a headache for them, Chinanews.com reported on Wednesday.
Camel breeding has become an important source of local income in that region over recent years. Before, herders in this vast desert area could not get timely and accurate information about the movement of their livestock. Now, with the technology-assisted agricultural projects being promoted, things are getting easier and efficient.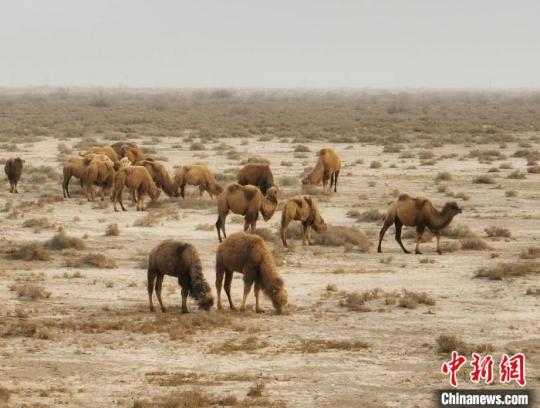 Camels wearing location sensors eat grass in the vast desert in Tumxuk, Xinjiang Uygur autonomous region. (Photo/China News Service)
By installing a location sensor (a smart collar) on livestock and using the herders' mobile phones, it can achieve real-time tracking of livestock and provide early warnings of extreme weather to manage pastures effectively. Besides, an electronic fence can also be set on smart phones to prevent the camels from getting lost.
According to the report, location tracking is just a primary application of the technology. More information about the livestock can also be sent to the backend system through technological upgrades, forming an electronic file for camel health assessment. In addition to their activity and behavior, the camels' temperature and health conditions can also be monitored and transmitted to the herders' phones through a WeChat mini-program.
With the assistance of the intelligent technology, local herders can watch over the camels by checking their smart phones and only have to come to the pasture every five or ten days compared to the everyday grazing on the site before.