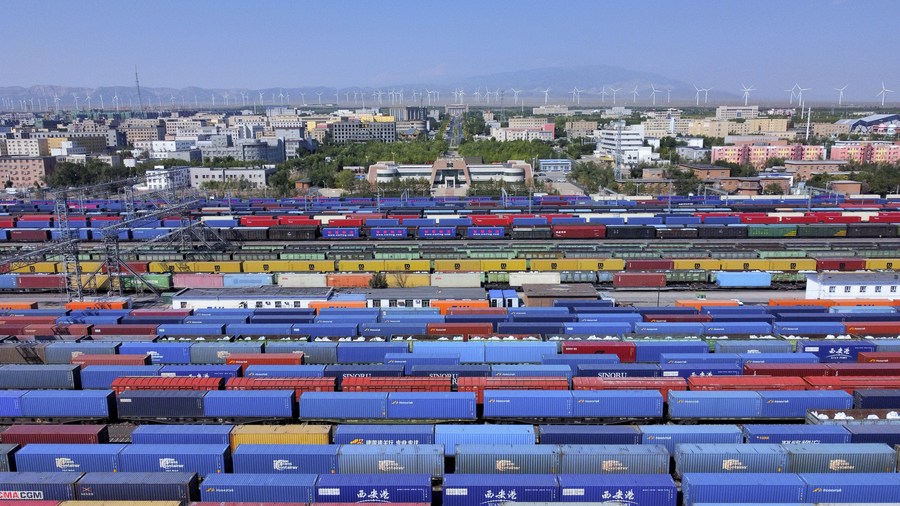 This aerial photo taken on Sept. 10, 2022 shows China-Europe freight trains at the Alataw Pass, northwest China's Xinjiang Uygur Autonomous Region. (Photo by Chen Qian/Xinhua)
A freight train loaded with auto parts, garments, and other goods Saturday departed from Alataw Pass, a primary land port in northwest China's Xinjiang Uygur Autonomous Region, heading for Malaszewicze in Poland. It marks the 3,000th such train passing through the port this year.
According to Liu Junping with the Alataw railway station, the customs clearance time for outbound trains has been reduced to less than five hours, while the processing time of inbound cargo has also been shortened.
Liu said that since the beginning of this year, the station has been expanding multimodal transport, revamping warehouses and increasing their capacity, and constructing new railway lines to improve the quality and efficiency of the China-Europe freight train service.
At present, 104 routes pass through the Alataw Pass, connecting 21 countries and regions, including Germany, Belgium, and Poland. The trains now transport more than 200 categories of items.
Vehicles and auto parts, household appliances and daily commodities are among the main exports through the port, while imports majorly consist of vehicles, auto parts, mechanical products, and cotton yarn.