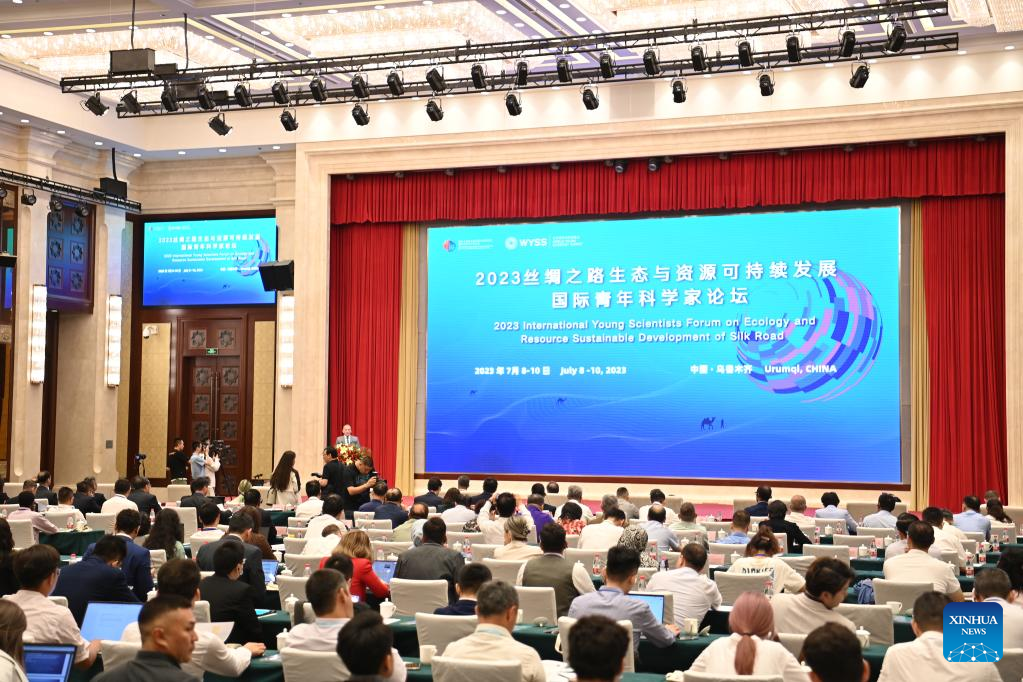 This photo taken on July 8, 2023 shows a scene of the 2023 International Young Scientists Forum on Ecology and Resource Sustainable Development of Silk Road in Urumqi, Northwest China's Xinjiang Uygur autonomous region. [Photo/Xinhua]
A forum focusing on Belt and Road technology cooperation and green Silk Road development was held Saturday in Urumqi, the capital of Northwest China's Xinjiang Uygur autonomous region.
Scholars, entrepreneurs and other delegates from over 30 countries and regions participated in the opening ceremony of the 2023 International Young Scientists Forum on Ecology and Resource Sustainable Development of Silk Road.
During the forum, participants discussed topics such as ecological barriers and ecological security in arid areas, sustainable conservation and utilization of biological resources, and green exploration of energy and mineral resources, among others.
Komiljon Tojibaev, director of the Institute of Botany of the Academy of Sciences of the Republic of Uzbekistan, highlighted the importance of research and protection efforts in the Tianshan Mountains, which span across Kazakhstan, Uzbekistan, Kyrgyzstan and China's Xinjiang with a total length of some 2,500 km.
"Tianshan Mountains are rich in natural resources and biodiversity, and can be a platform for scientific cooperation between Central Asian countries and China. We should combine our academic efforts and launch good conversation," he said.
For China and Central Asian countries, there are also opportunities and potentials for collaboration in the construction of photovoltaic (PV) power stations in desert areas, according to Liu Benli, a researcher with the Northwest Institute of Eco-Environment and Resources under the Chinese Academy of Sciences, adding that PV plants can develop synergistically with the ecological environment and agricultural and pastoral industry, such as increasing the vegetation cover nearby.
The forum also created an opportunity for young scholars worldwide to exchange opinions. Scientists called for the involvement of more scholars in the Deep-time Digital Earth (DDE) initiative, a science program focusing on Earth's evolutionary history. The project aims to make breakthroughs in major, fundamental scientific questions concerning deep-time evolution of materials, life, climate and geography.
Patricio Villafa?e, a member of DDE and a postdoctoral fellow from Argentina, said it is very important for young scientists to participate in Belt and Road scientific research cooperation. "DDE is a long-term project involving ecology, geology, biology and many other fields, and we expect young scholars from all over the world to join our research team."
From Sunday to Wednesday, groups of delegates will go to Turpan city and the Kazak autonomous prefecture of Ili to visit botanical gardens, deserts, mountain grasslands and a dinosaur fossil museum.
By strengthening cooperation between Xinjiang and its surrounding regions and encouraging more young scientists to engage in academic exchanges, researchers can jointly discuss and solve problems hindering sustainable development and provide innovative solutions for the sustainable development of ecology and resources, said Zhang Jing'an, an academician of the International Eurasian Academy of Sciences.