A roaring fire flashes with a crisp turn of the dial, as Spiremuhan Bawudong lights the gas stove in her kitchen to prepare lunch. Until just a few years ago, making a meal seemed to take forever as she still relied on firewood for cooking.
"With natural gas available, life is so much easier now," said Spiremuhan Bawudong, a resident of Darya Boyi, a village located at the heart of the Taklimakan Desert in northwest China's Xinjiang Uygur Autonomous Region.
This aerial photo taken on Aug. 13, 2023 shows the relocated Darya Boyi Village in northwest China's Xinjiang Uygur Autonomous Region. (Xinhua/Su Chuanyi)
Thanks to a major project that began 10 years ago, more than 4,700 km of pipelines now crisscross southern Xinjiang, allowing Spiremuhan Bawudong and over 8 million others to bid farewell to traditional "dirty" fuel such as firewood and coal and march into a cleaner and safer natural gas era.
In addition to enhancing the quality of modern living, these pipelines have infused boundless vitality into the local economic development, creating more opportunities for people from all ethnic groups living in the Tarim Basin, a major petroliferous basin in China.
NEW OPTION, NEW LIFE
For centuries, people in Darya Boyi have established their homes along the banks of the Keriya River, sustaining generations by relying solely on poplar logs and red willow tree branches for cooking and heating.
In 2017, the first group of 396 people, which included 100 children, moved into the new settlement located approximately 110 km away from the old location. By 2019, the entire village was relocated.
"The new house is well-connected with paved roads, and here a tank of liquefied natural gas costs only 100 yuan (about 13.9 U.S. dollars), lasting for several months," Spiremuhan Bawudong said.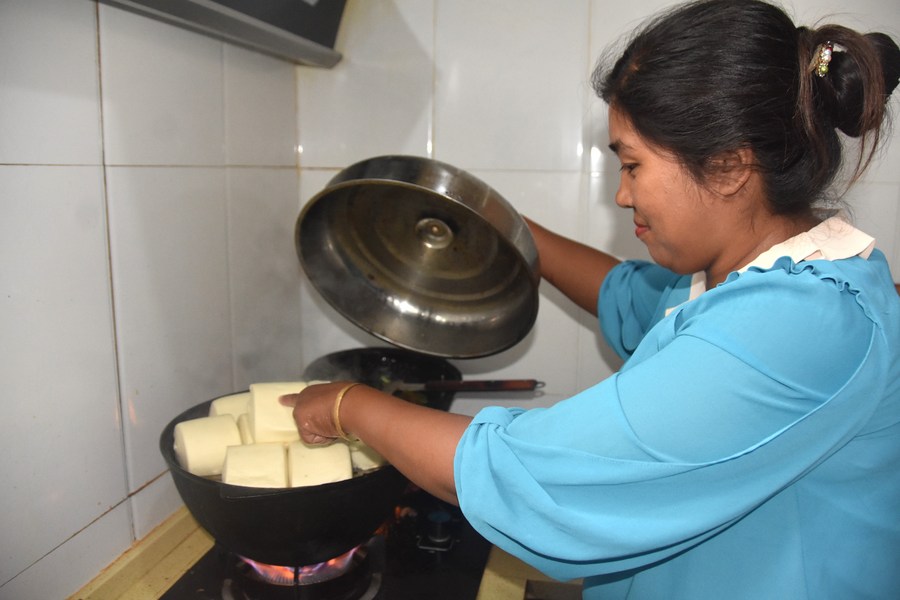 Local resident Bahargul Qadir cooks with natural gas at home in Hotan City of Hotan Prefecture, northwest China's Xinjiang Uygur Autonomous Region, Aug. 15, 2023. (Xinhua/Gou Lifeng)
Since relocating to the new place, preparing meals has become significantly more enjoyable for Spiremuhan Bawudong, as the choking smoke from cooking is now a thing of the past.
In recent years, with the rising popularity of desert tourism, more and more tourists are visiting the village for sightseeing. "Tourists now enjoy tasting our popular local bread after we've replaced firewood with natural gas in its production," said Li Jun, the village's deputy Party chief.
CLEANER ENERGY, BRIGHTER FUTURE
Boasting a time-honored history, the old town of Kashgar City has been a popular tourist destination in Xinjiang, especially after it underwent an upgrading and renovation powered by safer, greener and cheaper clean energy.
Born in the old town, Salametgul Khari was among the first to open a homestay. "In the past, we had to burn wood and coal for cooking or heating, which was not safe. Now we've switched to natural gas which is very convenient," she said.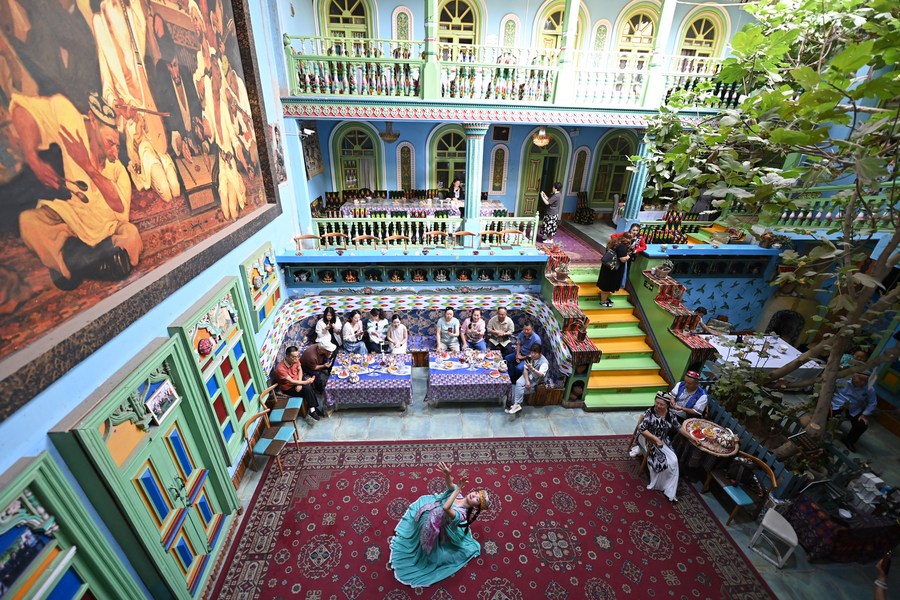 A performer dances to the music at Salametgul Khari's homestay in the old town of Kashgar City, northwest China's Xinjiang Uygur Autonomous Region, Sept. 6, 2023. (Xinhua/Li Xiang)
The price of natural gas in southern Xinjiang is generally below one yuan per cubic meter owing to its geographic proximity to resources and the support of preferential policies.
"The transition has saved me a lot of money and boosted local tourism," said Salametgul Khari, adding that her family would spend nearly 5,000 yuan a year on heating and cooking by burning coal, but the cost has almost halved after natural gas pipes were laid.
In addition to tourism, other industries in southern Xinjiang have also gained momentum as natural gas has enabled the smooth processing of agricultural products, and the exploitation of energy and mineral resources, among others.
Employees work at a food processing company in Kashgar, northwest China's Xinjiang Uygur Autonomous Region, Sept. 11, 2023. (Photo by Nurmemet Qasim/Xinhua)
Official data shows that clean energy has boosted the development of over 600 enterprises and created more than 60,000 jobs, laying a solid foundation for higher-level growth in southern Xinjiang.
The region is also experiencing a surge in investments. In July, Xinjiang signed a cooperation agreement with PetroChina to expand the natural gas pipeline projects in 10 prefectures covering a total length of 4,977 km. These ever-expanding pipelines are expected to bring prosperity to more people in the region.