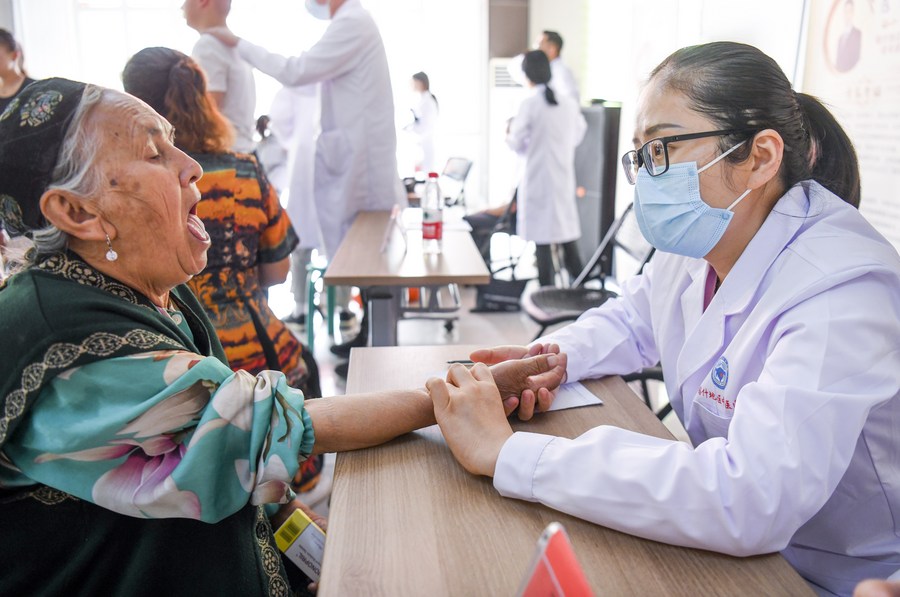 A medical worker from east China's Shandong Province gives free consultation in Kashgar, northwest China's Xinjiang Uygur Autonomous Region, Sept. 16, 2023. (Xinhua/Wang Fei)
Through years of medical assistance, hospitals in China's Tibet Autonomous Region and Xinjiang Uygur Autonomous Region have seen notable improvements in healthcare services, management, and human capital, said the National Health Commission (NHC).
In 2015, China initiated a national program of sending teams of medical and education personnel to offer support to Tibet and Xinjiang.
Since then, more than 3,100 high-caliber personnel from provinces and municipalities relatively advanced in the medical sector have been dispatched to hospitals in both regions, Xing Ruoqi, an NHC official, told a press conference held in Kashgar, Xinjiang, on Wednesday.
Xing said these healthcare workers, encompassing medical practitioners and managers, have guided over 1,000 local medical teams and trained more than 7,600 medical personnel.
TARGET-ORIENTED ASSISTANCE
Yan Xinjian, a doctor from southern China's Guangdong Province, began assisting the cardiovascular surgery center at the First People's Hospital of Kashgar Prefecture in April. His primary task is to develop the surgery of acute DeBakey type I aortic dissection, which carries high risks and is complex.
"Treating this disease is a race against time. Our center is making efforts to improve the surgery level," said Yan, adding that it is important to cure patients locally and timely rather than referring them to more advanced hospitals in Urumqi, the regional capital over 1,400 km away.
"We send assistance teams oriented to the medical needs of the assisted regions," said Wang Hongbin, deputy director of the Guangdong provincial health commission.
According to Zou Xiaoguang, deputy director of Xinjiang's health commission, medical assistance has significantly improved the local treatment capabilities, with clinical specialty numbers increasing from 180 in 2016 to 258 in 2022.
"Furthermore, the program has also created positive spillovers to the county-level hospitals," said Zou.
EMPOWERING LOCAL CAPACITY
"Many young local medical workers have now become 'pillars' in their departments," said Ding Qiang when he revisited the People's Hospital of Kizilsu Kirgiz Autonomous Prefecture. He assisted the hospital from 2017 to 2019 and is currently a revered administrative staffer at the Jiangsu Provincial People's Hospital.
Since 2016, medics from Jiangsu have supported over 30 clinical specialties and become tutors of over 300 healthcare workers in Xinjiang, Ding added.
Since the pairing assistance program was launched, the number of level-4 surgeries, which is of the highest risk in China's classification, conducted in eight of Tibet's assisted hospitals, had increased to 8.8 percent in 2022, allowing more seriously ill patients to receive better and more timely treatment.
As released in the press conference, over 4,300 healthcare professionals from assisted hospitals have received education and training in regions with relatively advanced medical resources.
The NHC has held training courses to promote health education in villages, families, and schools as an integral part of the program, according to Mi Feng, an NHC official, adding that free visits to clinics and free healthcare lectures have also been conducted to popularize health knowledge to the public in the two regions.