The "Mijiti" store in Urumqi, capital city of northwest China's Xinjiang Uygur Autonomous Region, is renowned for its delicious and affordable nang, a type of flatbread. It attracts a constant stream of customers, both locals and tourists from various regions of China.
Akbarjan Sirajidin, a nearby resident, is a loyal customer who has been purchasing nang from Mijiti for many years.
Abdusattar Ubul, one of the four founders of the chain store, says that their first store was opened over 20 years ago. The four brothers, originally from southern Xinjiang, ventured to Urumqi to establish their business.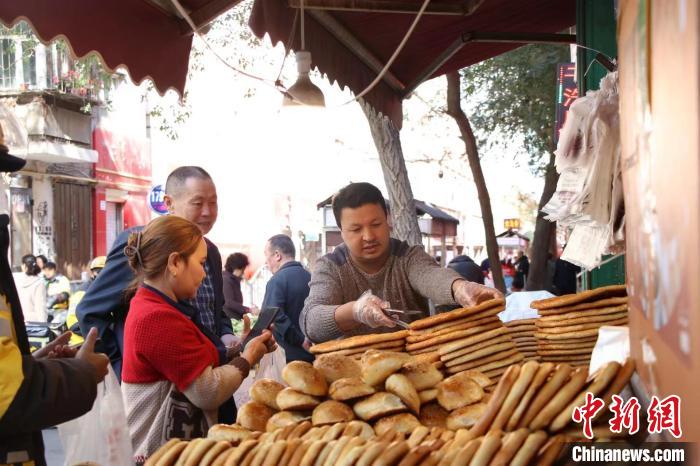 Abdusattar Ubul (right) selects nang for customers. (Chinanews.com/Gou Jipeng)
Abdusattar Ubul, the third brother, is in charge of selecting high-quality raw materials for the store.
In 1997, the first Mijiti store was opened at Wenhua Lane of Urumqi, marking the beginning of their entrepreneurial journey. The number of Mijiti nang stores rapidly expanded to over 10 in the following years, driven by a strong focus on quality and service.
In recent years, Xinjiang has been actively promoting the intensive and standardized development of the nang industry, along with brand building. Driven by this, Mijiti has successfully transitioned from a small workshop to a chain of operations.
Zakir Ubul, the youngest among the four brothers who was born after 1990, returned from studying abroad two years ago.
He now primarily handles the financial side of the chain stores. Zakir Ubul acknowledges the significance of brand and reputation in the catering industry. While opening a nang store may be relatively easy, operating a successful chain of stores is a challenging endeavor.
Currently, Mijiti nang chain stores employ over 90 workers and sell more than 10,000 nang daily. In addition to serving their local customers, Mijiti also distributes its products to other parts of China through air transportation.
Zakir Ubul reveals that many tourists from outside Xinjiang have become loyal customers after trying their nang and often reach out to make purchases.
Currently, Mijiti distributes over 50 boxes of nang daily, primarily to cities such as Xi'an, Guangzhou, Shanghai, and Beijing. In the future, the four brothers plan to open a branch in Xi'an or Guangzhou, giving customers outside Xinjiang the chance to savor freshly made nang.