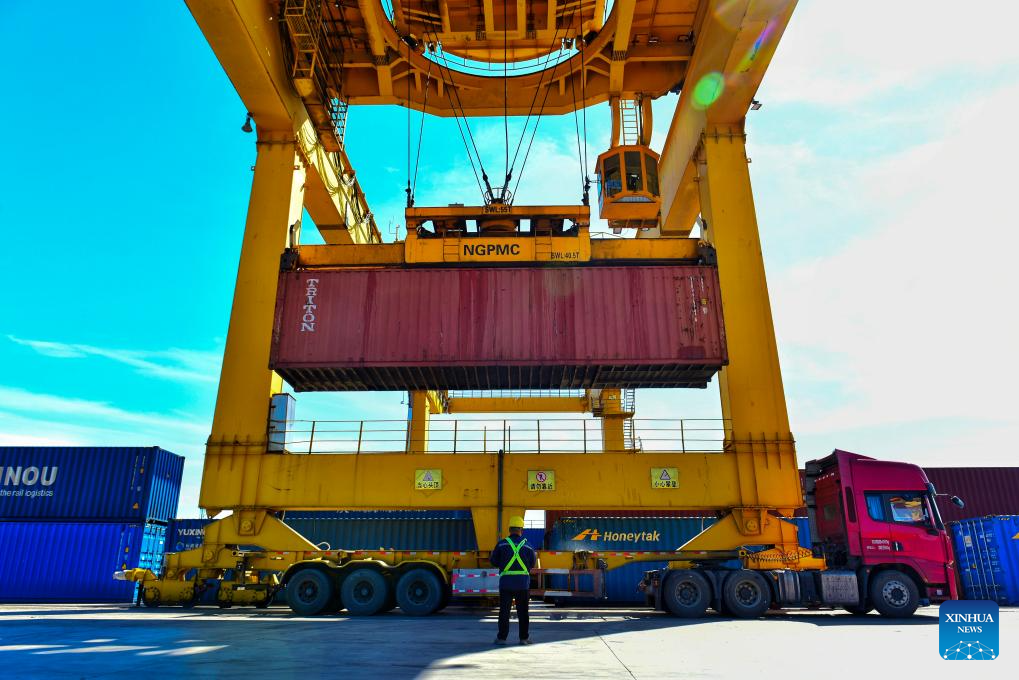 A crane operates at the load-transfer yard of Horgos station in Horgos, Northwest China's Xinjiang Uygur autonomous region, on Sept 6, 2023.[Photo/Xinhua]
Plucked in the morning sun and loaded onto trucks at midday, succulent apples and nectarines will embark on a nearly six-hour journey, crossing the border from Horgos and arriving at Almaty, Kazakhstan, where Kazakhs can savor fresh Chinese fruits.
Before the Western Europe-Western China Road opened to traffic, transporting fresh produce from Horgos – a border city in Northwest China's Xinjiang Uyghur autonomous region – to Almaty took two to three days, explained Yu Chengzhong, chairman of Jinyi Group, a fruit and vegetable wholesaler. The opening of the road and the improved clearance processes have greatly reduced this transportation time, he said.
To ensure the quality of fresh agricultural products, a green channel was established at the port in 2019 to increase the efficiency of customs clearance, said Chen Pengde, deputy head of Horgos Customs.
The shortened time has ensured the freshness of fruits, cut costs, and improved efficiency for businesses, Yu said.
Having been in the fruit trade for nearly three decades, Yu arrived in Xinjiang from Central China's Henan province in 1988. He represents not only the first wave of entrepreneurs who ventured into business following the opening of Horgos Port, but also has witnessed the region's rapid growth. As a participant in the BRI, he has significantly benefited from the initiative.
Yu said he had no idea what the initiative was about in the beginning, but after engaging in foreign trade, he has gradually understood that the initiative not only benefits Chinese enterprises but also benefits partner countries of the BRI.
Central Asian countries and Russia have shown a growing demand for Chinese agricultural products, especially fruits from Xinjiang, Yu said, adding that with faster transportation, people from those countries could enjoy cheaper products.
Yu's company is witnessing a surge in orders, with an estimated export trade value of $1.5 billion this year. From January to October, the company has already exported nearly 150,000 tons of agricultural products, almost doubling last year's total.
From January to September this year, 66,000 tons of fruits and vegetables were exported from the Horgos Port, a year-on-year increase of 69 percent, according to customs statistics.