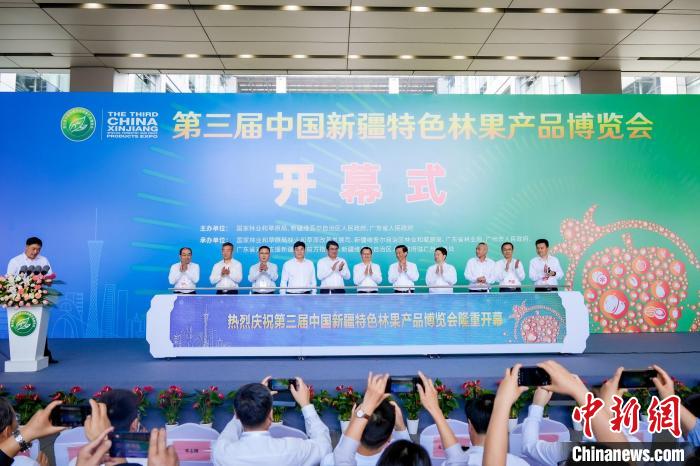 An opening ceremony of the Third China Xinjiang Special Forestry and Fruit Products Expo is held in Guangzhou, Guangdong's provincial capital, Nov 10, 2023. [Photo/Chinanews.com]
The Xinjiang Uygur autonomous region in Northwest China is seeking to further expand cooperation with Guangdong in developing its forestry and fruit industry, while sparing no efforts in expanding sales of its fruit products in the southern Chinese province.
Mardan Murgat, vice-chairman of the Xinjiang regional government, said that the region is an important production base for high-quality agricultural products both domestically and internationally.
Guangdong is at the forefront of China's reform and opening-up efforts and is an important window to the outside world, with a brisk market and developed economy, he said.
Xinjiang and Guangdong can realize their complementary advantages through expansion of their cooperation, Mardan said at the opening ceremony of the Third China Xinjiang Special Forestry and Fruit Products Expo on Friday in Guangzhou, Guangdong's provincial capital.
The three-day expo, which has become a platform for exchange and trade between the two sides, ended on Sunday.
"Xinjiang will continue to vigorously implement the strategy of expanding the agricultural product market and fully promote the 'going out' strategy to sell more of the region's unique forest and fruit products to a broader market," he said.
Mardan hoped businesspeople take advantage of the expo to learn more about Xinjiang and to look for more business opportunities.
"We will continue to make great efforts to build a better environment and provide high-quality services for investors to achieve mutual benefit and a win-win situation," he added.
According to the vice-chairman, the total area of forest and fruit planting in the region is 1.4 million hectares this year, with an estimated total fruit yield of more than 13.6 million metric tons.
Xinjiang's production of red dates, grapes, apricots, fragrant pears and plums has consistently ranked first in China.
The production of other agricultural products, including walnuts, apples and goji berries, is also among the top in the country, Mardan said.
Zhang Shaokang, vice-governor of Guangdong, said the provincial government is expecting to further advance cooperation with Xinjiang in forestry, agriculture, tourism and deep processing in the coming years.
Guangdong will deepen exchanges and cooperation with Xinjiang and promote the high-quality socioeconomic development of both sides in the near future, he said.
"Companies from both sides are expected to fully tap into Xinjiang's resources and industrial advantages, as well as the market and research and development advantages of Guangdong to achieve mutual benefit and win-win results in the following months," he said.
More than 800 fruits and agricultural products from Xinjiang were showcased at the expo.
Eighteen companies from eight prefectures, cities and fruit industry groups in Xinjiang signed cooperative agreements and sales contracts valued at more than 947 million yuan ($135.3 million) with counterparts from outside the region during the event.
The annual event is jointly organized by the National Forestry and Grassland Administration and the Xinjiang and Guangdong governments.
zhengcaixiong@chinadaily.com.cn